Bernadotte. The Royal House of Norway and Sweden, 1888
---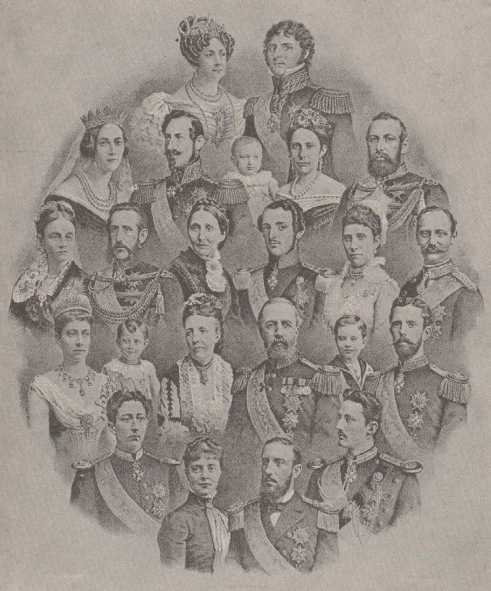 Top row, left to right: Queen Désirée, King Carl III (XIV) Johan.
Second row: Queen Josephine, King Oscar I, Prince Carl Oscar, Queen Louise, King Carl IV (XV).
Third row: Princess Therese, Prince August, Princess Eugenie, Prince Gustaf, Crown Princess Louise of Denmark, Crown Prince Frederik (VIII) of Denmark.
Fourth row: Crown Princess Victoria, Prince Wilhelm, Queen Sophie, King Oscar II, Prince Gustaf (VI) Adolf, Crown Prince Gustaf (V).
Fifth row: Prince Eugen, Ebba, Princess Bernadotte, Oscar, Prince Bernadotte and Prince Carl.
The Bernadotte portrait was published in Yngvar Nielsen's Biografier af Den norske og svenske Kongefamilie. 1818-1888. (Det Bernadotteske Kongehus i 70 Aar) , Kristiania: B.T. Mallings Boghandels Forlag, 1889. The portrait is provided by G. Kr. Johs. Barmann. Unknown artist.
---
---
This page was last updated on Thursday 8 July 2010
(first time published at http://www.geocities.com/dagtho/bernadotte1888.html on Sunday 8 September 2002).
© 2002-2010 Dag Trygsland Hoelseth

---