The Ekeli Family
Ekeli of Haukeli in Vinje, Telemark County, Norway
---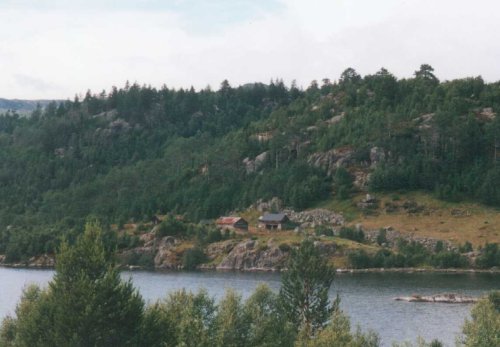 ---
Ekeli news!
The Ekeli Family on Facebook! Join in! For descendants of Svein Olsen Egeli (Ekeli/Øykjeli) of Haukeli, Vinje, Telemark, Norway.
---
History and introduction
The name of Ekeli is originated from the farm with the same name situated at Haukeli in Vinje, Telemark County, Norway (see maps of the area). The family descending from this farm is considerably large. The Egeli/Ekeli name have survived by the ancestors of Herbjørn Evensen Egeli (b. Vinje (Haukeli) 7 September 1848, d. 5 July 1893), who spent the main part of his life in Kristiansand, Southern Norway, where all his children were born.

Herbjørn's brother Svend Evendsen (b. 1853) left for the USA in February 1882, probably by the ship S/S Orlando which left Kristiania (today Oslo) on 17 February and took on passengers in Kristiansand before it went to Hull. From there the emigrants travelled by another ship across the Atlantic. Svend most likely did not use the Egeli name when settling in the USA. He probably went to Wisconsin where his 3 uncles lived, but he has not yet been traced. His sister Hæge Evensdatter Egeli left Kristiania for America on 2 June 1882 on the ship Rollo together with the Tofsland family from Vinje. She has not been traced either, but the given destination was Stoughton, Dane county, Wisconsin. Their mother Liv Tollevsdatter (b. 1824 in Hjartdal, Telemark) emigrated to the USA in July 1885, cf. Stølen: 2002, p. 7. She has not been traced yet either, but is most likely buried in Dane county.

There are also members of the family who also descend agnatically from the first Egeli farmer (of our family) registered, Svein Olavsen (Egeli), who was born around 1779. These family branches used patronyms like Sveinson/Svensen/Swanson etc. and ended in most cases up in the United States. One of them is the line descending from the rosepainter Tor Sveinson Egeli/Øykelie/Vågslid (uncle of Herbjørn Evensen Egeli above) who emigrated to the USA with his family in 1861 and settled down in Dane county, Wisconsin. See examples of his art.

The Ekeli genealogy will (probably) not be published at my website, because you should read the Ekeli book when it comes out instead (for information about Gunnlaug Stølen's article on the Øykjelie family, go here). But I will give you a short survey for now, of the branches descending from Herbjørn Evensen Egeli:
Even Egeli (b. Kristiansand 23 July 1874, d. Kristiania 24 November 1915). Married to Josefine Mathilde Wennerstrøm (b. Hitra 1/8 March 1875, d. Kristiania 17 May 1921). Lived at Horten and later at Vålerenga, Oslo. 3 sons, with descendants in Norway and the United States.

Torkild Johan Ekeli (b. Kristiansand 14 August 1878, d. Grønli, Sandefjord 23 March 1939). Married 27 Nov 1904 to Gunda Helene Hansen (26 August 1879-24 Feb 1962) from Ragnhildrød, Stokke. 3 sons (one adopted) and 2 daughters, with living descendants in Norway, Germany and the United States.

Hermann Tobias Ekeli (b. Kristiansand 12 January 1885, d. Oslo 1 January 1946). Married to Gulborg Hammermark (1888-1968). Lived at Vålerenga, Oslo. 1 son and 2 daughters (of whom only one daughter lived up), with descendants in Norway only.
Until the Ekeli genealogy is published here, you are encouraged to read about some of the Ekelis in the agnatic and cognatic lines, such as the artist branch of the family (descendants of Even Egeli):

Torkild Johan Ekeli's son Gunnar (d. 1983) had the daughter Unni. Her younger son Terje Liverød used to play professional soccer, and you can read about his career (in Norwegian) here.

Torkild Johan Ekeli's youngest daughter Torborg Hoelseth had four children. Here is some information about her eldest son's family:
Bjørn Hoelseth at Sandefjords Blad (in Norwegian). Bjørn Hoelseth is a retired journalist and you will find some of his articles from here.

Ole Trygsland Hoelseth is chairman of the board of the birthday specialist Helti100.no and writes news and articles about the company at Oles Helti100.no Blogg. Ole is the oldest son of Bjørn Hoelseth.

Dag T. Hoelseth (main site). Dag is the youngest son of Bjørn Hoelseth. You can find further information at his presentation page or at his ancestry page.
---
Eikeli/Øykjeli/Egeli is a place under farm no. 93 in Vinje municipality (the administration has given the farm no. 93-2 (gnr. 93 bnr. 2), which cannot be correct). The place can be found here.
---
Ekeli genealogy
Gunnlaug H. Stølen has written an article on the Øykjelie (Ekeli) family in Bygdemellom 2002 , published by Sullamrei Historielag (Sullamrei History Society).
---
On the name of Ekeli
Please have in mind that the name Ekeli ("oak" + "hillside")* is quite common in Norway and that there accordingly are several farms and families carrying that name. Three examples are the Ekeli family of Tjøme, Vestfold County, Ekeli, Rogaland County or Egelien, Finsland, Songdalen in Vest-Agder County (I have ancestors also from this farm).
* Note that the name of the Ekeli farm in Vinje, Telemark does not originate from "oak+hill", but from the word "øikje" for "boat".
As you may have noticed already, the farm and family name can be spelt differently depending on where in Norway you live (dialectal differences). Egeli is also a common name in Turkey!
---
---
This page was last updated on Tuesday 23 June 2013
(first time published at http://www.geocities.com/dagtho/ekeli.html in 1999).
© 1999–2013 Dag Trygsland Hoelseth
---