The Hoelseth Family
Hoelseth of Åmot, Østerdalen, Norway
---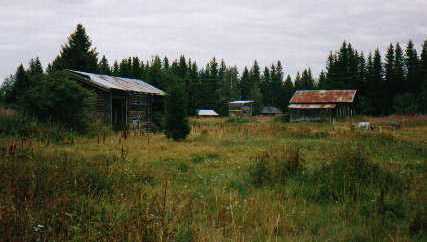 © 1994 Dag Trygsland Hoelseth.
Welcome to the Hoelseth page! I am currently working on a book about the Hoelseth family of Åmot, (Sør-)Østerdalen, Hedmark county, Norway. Only a small part of the Hoelseth genealogy will therefore be published here.
Contents
---
---
---
Descendants of Tollef Olsen Holset (1764-1840)
Tollef Olsen Holset was born in 1764 and died 2 January 1840. He married in 1786 Anne Christensdatter Glomstad (1762 - 7 Feb 1844).
Known children:
Ole Tollefsen (see the following)
Severin Tollefsen (chr. 24 January 1796), d. after 1865. (To Beitstad [Steinkjer], county of Nord-Trøndelag), married.
1 According to the church book Ingeborg was 68 years old at the time of her death, while she was in fact only 58. As she was married to Otter Knutsen Deset (1805-1881), it is more than likely that it is the right Ingeborg I have found.

There are today (to my knowledge) living descendants of no. 1, 2, 3, 5 and 7. I have so far only traced descendants of no. 2 (complete) and no. 3 (almost complete) and have a few details on no. 1, 5 and 7. Kristen's daughter Kersti emigrated with husband and children to the United States, and this branch is the biggest of all the Hoelseth lines.
---
Descendants of Ole Tollefsen Holset (1789-1840)
Ole Tollefsen Holset was christened on 10 May 1789 and died on 12 January 1840, ten days after his father. He married on 15 July 1823 at Elverum Anne Hansdatter Viken (b. 1790, d. Langerud, Åmot 30 October 1867) from Viken in Elverum and had only one known child:
Tollef Olsen (see the following)
---
Descendants of Tollef Olsen Hoelseth II (1825-1876)
Tollef Olsen Hoelseth was born at Holset, Åmot 28 April 1825 and died at Nygården, Åmot 27 September 1876.
1st marriage: Åmot church 25 March 1852 Valborg Gudmundsdatter Waal (b. Waal, Åmot 4 February 1823, d. Nygården, Åmot 7 April 1873), daughter of Gudmund Gudmundsen Waal and Marte Helgesdatter Berger, both from Åmot.
Children:
Marte Tollefsdatter (b. Waal, Åmot 12 Feb 1852, d. Trysil Hospital 22 June 1917), married, 1 adopted daughter.
Anne Tollefsdatter (b. Langerud, Åmot 11 May 1854, d. Hørsand 28 May 1883)
Ole Tollefsen (b. Langerud, Åmot 28 May 1856, d. Hamar Hospital 18 June 1940), married.
Gudmund Tollefsen (b. Langerud, Åmot 14 May 1859, d. (near) Wilmington, Vermont, USA 13 Jan 1940), married.
Helge Tollefsen (b. Langerud, Åmot 1 April 1861, d. Nygården, Åmot 20 Oct 1875)
Thorvald Victor Tollefsen (b. Langerud, Åmot 9 Aug 1863, d. Langerud, Åmot 1 Jan 1868)
Valdine Tollefsdatter (b. Langerud, Åmot 14 Apr 1866, d. Trysil 8 September 1907), married.
Thorvald Tollefsen (b. Åmot 11 March 1870, d. 22 December 1954), married.
2nd marriage: at Nygården, Åmot 8 Jan 1875 Gurine Gudmundsdatter Waal (b. 20 Feb 1853, d. 24 March 1889) (daughter of Gudmund Gudmundsen Waal, Åmot and Eli Taraldsdatter Løken (Mora)). (Gurine was a niece of Tollef's first wife).

Child:
Gudmund Victor Tollefsen2 (b. Nygården, Åmot 8 Nov 1875 - d. Brainerd, Minnesota, USA 28 March 1953), married
2 See the emigrant protocol "Emigranter over Kristiania 1871-1930", page 79. He is here listed with his stephfather's surname and with an incorrect age, as he was 6 at the time, not 4. But there is no doubt about the true identity. He used the name Holset as an adult. In the protocol he is listed with his mother Gurine Heien, his stephfather Gunder Pedersen Heien and his half-sister Thora. They left by the ship Angelo (to Hull, England) on 17 June 1881 and had Kerkhoven, Minnesota, as their final destination.
---
There are today living descendants of no. 3, 4, 8 and 9. No. 7 Valdine had 3 children, who all got married, but none of these got children of their own.
Gurine Gudmundsdatter married after Tollef Olsen Hoelseth's death Gunder Pedersen Heien, and they emigrated to the United States (ending up in Montevideo, Minnesota) in 1881, bringing Gurine's child Gudmund Victor Holset (which was his name registered in the US) with them (see footnote above). Gurine and Gunder had 4 children together.
---
In the mid-1920s lensmann (sheriff) Thorvald Tollefsen Hoelseth, Løten (1870-1954) hired archives assistant Leif Midthaug at the Regional State Archives at Hamar to do research on the Hoelseth (Holset) family. Midthaug's «Optegnelser» («Records»), or more exact his report delivered to lensmann Hoelseth, were delivered on 25 January 1926. His report in original can be viewed here, while a transcript, which also contains a few additions made in handwriting by Thorvald T. Hoelseth and by yours sincerely, can be viewed here. The report refers to transcriptions of various material found in the National and State Archives (deeds etc.).

After Midthaug's report was delivered, Thorvald Tollefsen Hoelseth obviously distributed copies to his siblings, or at least to his oldest brother Ole Tollefsen Hoelseth (1856-1940. The following pdf files contains Ole's copy with the main report and all the enclosures (as above in Norwegian only):

Some, if not all, of the documents above will be transcribed in html later on. For information about Titus Bülche' census 1663–1666, go to Lokalhistgoriewiki.no (in Norwegian).

It is my understanding that the Holseth chapter in Åmot bygdebok, vol. 2 (Eyvind Lillevold, 1971), pp. 648–657, is for the most part based on Midthaug's original work. See also the Glomstad chapter in the same volume, pp. 658–704, especially p.684.

Other work made by Leif Midthaug can be viewed at Wangensteen.net.

It should be added that I have since the 1990s and especially from 1992 onwards (when I was doing my military service at Terningmoen, Elverum) worked a lot on the Hoelseth genealogy and have a large file covering the descendants of Tollef Olsen Holset (1764-1840). I have double-checked the churchbooks for the Hoelseth generations back to Tollef Olsen Holseth's father Ole Eriksen Holseth (1723-1810), and some of the sources will at least be added to my ancestry page sooner or later, but for the older generations I have so far based my genealogical presentation on Midthaug's work.

My father's line was published at the Digital Archives' users' forum on 7 June 2012 (message no. 177).

This section was last updated on Wednesday 13 June 2012.

Thorvald Victor Olsen Hoelseth (1881–1888) received the Flyen Bible on 21 May 1882 as a gift from his uncle Lars Larsen Flyen (b. Folldal 1864), who emigrated to the United States the following month. Lars Larsen Flyen himself received the bible (1868 edition) in 1874 from his sponsor Kari Olsdatter Bransnes (Brandsnæs).

After Thorvald's death, the bible was kept by his parents Ole Tollefsen Hoelseth (1856–1940) and Mari Larsdatter Hoelseth, née Flyen (1859–1933), and one of them wrote genealogical details on the second and third page. The bible was later inherited by their second son Oscar M. Hoelseth (1884–1954), after him his second son Arne Hoelseth (1916–2007), who gave it to his grandson Dag T. Hoelseth.

This section was last updated on Thursday 28 February 2013.

Other sources

Various family papers, census searches, churchbooks, Åmot Bygdebok. More details here will be given later (and in full in the Hoelseth book).
---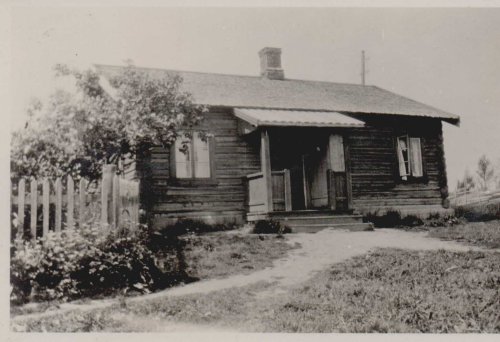 Holsetstuen where Kersti Kristensdatter Holset came from. See also Nornes News Notes and information above.
---
Crookston Daily Times covers the Polk County, MN area, where many descendants of Kersti Kristensdatter Holseth (1834-1920) live or have lived.
---
There are several other farms and families named Hoelseth or similar (Holset, Holseth, Hoelset). Among these are:
Elverum. According to the 1900 census there is/was a farm named Holset (gnr. 24, bnr. 21). The children at the farm used Holset as surname.

Lesja. There are many persons named Holseth or Hoelseth living in the area or descending from the farms Holseth or Holsethstuen at Lesja.

Alvdal. Family named Hoelset from the farm with the same name situated at Alvdal.

Vang. The family of Holset has died out in the male line. The modern city of Hamar is built on the land of the former farm Holset. Two streets in Hamar are named after Holset: Holsetgata and Holsetbakken.

Nes. There are quite a few persons with the name Hoelseth who descend from a little place in Nes, Hedmark. These are descendants of Per Karlsen.

There are a few persons buried at Hamar Cemetery who have no (not known to me) links to the persons above, so there must be other families having used this name.
The names Holset, Holseth, Hoelset and Hoelseth as well as Holsetstuen/Holsethstuen all have the same origin of meaning ("seat on a hill") as opposed to the family names Holseter, Holsæter and Holsæther.
---
---
---
This page was last updated on Thursday 28 February 2013
(first time published at http://www.geocities.com/dagtho/hoelseth.html in late 1998).
© 1998–2013 Dag Trygsland Hoelseth
---